A 4-5 hour train away from London, Edinburgh was the perfect weekend getaway to see a Rugby game and enjoy the beautiful city. We ate, shopped and got festive. Here are my Edinburgh must see and eats. 
TO EAT; 
The Pantry Stockbridge; the best breakfast you MUST go here. I had the NY eggs with Salmon and Rob had the full Scottish. (haggis AND black pudding beware)
Wellington Coffee; Great little coffee bar on the corner tucked away. They also make giant divine scones.
Hula Ltd Juice Bar; If you are feeling fruity.
The Milkman Coffee; Great coffee!! Very quirky. Some good looking almond croissants too.
Burr & Co. Coffee; Another coffee place, because that's what travel is all about right?
The Edinburgh Larder; Great for bread, granola or grab and go breaky/lunches. We got salmon and egg rolls… mmmm
Makars Gourmet Mash Bar; DINNER must do. I don't like mash potato and I still loved the place. I had the ox cheek and Rob got the lamb shank teamed with a glass of red.
Pumpkin Brown; If you feel like an acai bowl or raw healthy treatie.
TO SEE; 
Murrayfield Stadium; go and see a game. The Scottish are very patriotic. "…and I would walk 500 miles and I would…."
Princes Street and Princes Street Gardens; the main strip in town if you fancy some shopping.
Edinburgh Christmas Markets (Nov-Jan); If you're there at Christmas you won't miss these. Get ready for mulled wine and hot waffles.
Carlton Hill; Great for some time with nature.
Arthur's Seat; For the active type who want to hike up to see a beautiful view.
Edinburgh Castle; Great views from the top over looking the city.
Do a tour out to see the hairy cows; We didn't do this as we only had 40 short hours but I wanted to. There are plenty of little tour places offering day trips to the Highlands to see the highland cattle. How cute are they…
TO STAY; 
OLD TOWN; the best location to stay in the city would be in the old town. The streets are beautiful and it is really uniquely Scottish.
Jonathan's AirBnb Near Murrayfield Stadium; link >> here https://www.airbnb.co.uk/rooms/13954039
We stayed at Jonathan's flat and it was everything we needed. Super easy to get a bus straight into town in about 7 minutes. Maybe if we weren't going to a game we wouldn't have stayed that far out of town but we loved it. Note the fire place is a painting NOT a fire haha.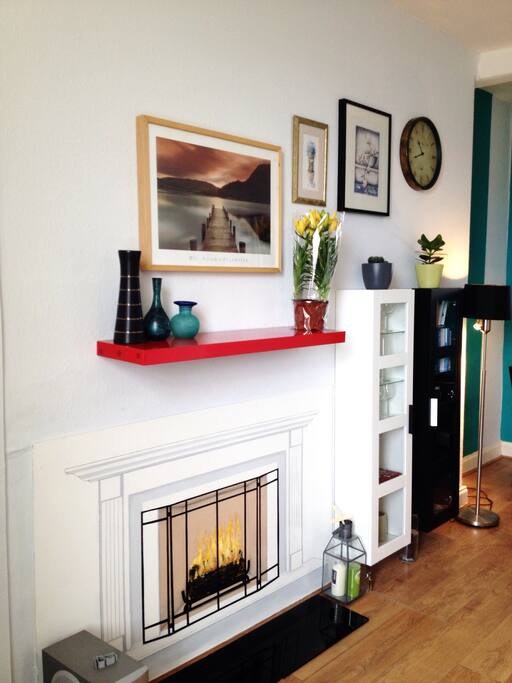 Enjoy this beautiful city my Laddy and Lassy's
K