10 DAYS IN VIETNAM
Amazing local street food, beautiful busy little cities, plenty of smiley locals and cute babies, insane landscapes, rice fields and gorgeous mountains and so much diversity of land – Vietnam has everything. Most people don't realise how big the country is and you'll definitely need more than 10 days to explore the lot and take your time.
We chose to do the beautiful land between Hoi An and Hanoi rather than venture down to Ho Chi Minh City or North to Sapa, but with more time we would definitely explore. The 3 day Ha Giang motorbike loop I've heard is the best bit of countryside in Vietnam in the far north near China but we didn't make it that far. Ha Long bay is touristy and unless the weather is going to be sunny and hot I would skip it. It is stunning but we believed Tam coc was sensational with a quarter of the tourists and so we chose this over Ha Long bay and have no regrets. Here is what we did and our tips;
HOI AN (4 nights)
We landed in Da Nang which is the closest airport to Hoi An and got an airport transfer for 300k dong. Although quite touristy Hoi An is an absolute gem and should be up there on your list. Unlike Hanoi and Ho Chi Minh City it is much smaller, and if you can see past the busloads of tourists, you will love it. Hoi An is built on a river inlet which comes alive at night time with small row boats, candle lanterns, night food markets and live music pouring out of the cafes and bars. The food is Hoi An is the best. Green mango salad everywhere, beautiful fresh food markets, awesome street food carts serving banana pancakes and banh mi and all this with a beach only 4kms away.
To Stay
Memority Villas and Spa; we paid $40 US for 2 nights and it was very nice. Buffet breakfast, beautiful pool and really nice rooms. 2 in Hoi An should be enough so head to the coast.
An Bang sunrise beach bungalow; An Bang beach is 4kms from Hoi An (20 minute bike ride) and is far less touristy and I would highly recommend a couple of nights here. This guesthouse was run by a lovely local girl named Vuwho speaks amazing English and is really helpful. There are 2 rooms which are spacious and everything you need. It is 500m from the beach and although there isn't a front desk or anyone there you can easily Whatsapp +84 122 951 6552 if you need anything as she lives 3 minutes away. The mini bar full size fridge is loaded with everything you could imagine from a mini bar and the breakfast is simple but great. Hire bikes and ride into Hoi An. Shes also building a new development of guest houses with a swimming pool and more facilities which should be ready in a few months so send her a text.
To Do
Hire bikes and ride either from An Bang to Hoi An or vis versa.
Yoga at Nomad; we did the travellers restoration class and it was very chilled but the stretch was exactly what we needed. I heard someone say they were super sore from the power class the day before so you'll find exactly what you need. In summer they also do sunrise beach yoga on An Bang beach.
Boat ride down the river at sunset; it only takes 30 minutes and half the cost of what they initially tell you but if it 'floats your boat' it's a lovely thing to do.
Night food Market; you can eat anything from chicken embryo to fried frogs. You can also get the usual Banh Mi and Pho, it's not all bizarre.
Five senses Spa; get a massage. We went for the 90 minute special which cost 900k dong for both of us and it was great. Highly recommend.
Get some clothes made from a tailor; if you have more than 4 days and want to get stuff made here is your place. These are the tailors in town I was recommended to. We only had 2 days so didn't bother but it looked tempting.
To Eat
Rosie's Café; we loved this place and had the best smoothies, smoothie bowls, smashed avo and eggs, great cold drip coffee (they don't do lattes or espresso just Vietnamese coffee or cold drip) also a good selection of vegan cakes and it's all super cheap.
Madam Khanh the Banh Mi Queen; Thanks to the French Influence they have a huge baguette culture and famous dish they call a Banh Mi. It's a fresh baguette stuffed with sliced pork, herbs, veggies, pate and sauce and this place is well known for a good reason. You'll sit down and pick from chicken, vego or mixed and it will be on your plate in 2 minutes as fresh as you get. 20k dong per roll. They also have an extensive juice menu and fresh coconuts.
Pho Lien; the best Pho in Hoi An. It will cost you 40k dong each (20k if you're a local but that's just who it rolls it Vietnam) and it is so so good. You sit inside the family's lounge and can see into their rooms and kitchen. There will be babies and dogs but the Pho is authentic and everyone's super friendly.
Purple lantern Restaurant; located in An Bang beach this restaurant/guesthouse was family run and awesome. We went 3 days in a row. Even if you aren't staying near An Bang it's worth the ride from Hoi An. Green Mango salad and the rice paper rolls were amazing.
Mango Mango; We didn't go but if you have more time check it out. We got recommended it.
Ancient Faifo; we were recommended this restaurant but I probably wouldn't go back again. The food was great however it was expensive for what it was. It was our first night in Vietnam so we didn't know you could get amazing food for 20-40k dong and we paid 550k for the dinner and beer.
Brothers Café; much more fancy but the location over the river is beautiful and worth the increased price if you aren't on a backpackers budget.
Mia Coffee; went here for soy flatwhites and they were great. Next door to the 5 senses massage spa. Drop by for a coffee.
Nomad Café; adjoined to the Yoga studio, Nomad café is open from 8-2 and does smoothie bowls, vegan goodness and healthy juices.
Xoong Garden; On the other side of the river this place is smoothie, vegan and Instagram heaven.
Moring Glory; fried crab wontons and green mango salad were tops.
CocoBox; if you're walking past pop in for a healthy juice or smoothie
Bale Well; we didn't get here but I read a lot about it. You rock up and sit down and they bring you food within a minute. There is no menu, they just serve you. They yell in Vietnamese and you just eat as much satay sticks and rice paper rolls as you can and then pay 200k dong a head. If you don't want a proper restaurant experience that is peaceful then go here for true Vietnamese Chaos. We skipped it because it isn't overly cheap for street food.
OTHER
Day trips to Da Nang. We didn't get o Da Nang but you can do day trips to the Marble Mountains. The Motorbike company called Da Nang Easy Riders does tours down and up the coast. If you don't have a motorbike licence you get sit behind a driver and cruise off into the sunset. They will show you the best of the country and get away from the touristy places.
Driver contact for Da Nang and Hoi An; Lam was our driver we met and he was lovely. Spoke good English and gave us great deals much cheaper than the Uber equivalent Grab. Message him on Whatsapp +84 90 592 31 77. He lives in An Bang and his wife owns a spa if you want a cheap massage too.
We flew from Da Nang to Hanoi to save time because the train was going to take over 20 hours.
HANOI (2 nights)
The capital of Vietnam is crazy. Chaotic but known as the street food capital of the world for a good reason. Stay in the Old Quarter and get lost walking around. Hold onto your bags, eat everything from the street stalls and look when crossing the road. 2-3 days would probably be more than enough but you can also do some great day trips if you want to be based in Hanoi for longer. You can get a 'grab' (like Uber) from the airport for around 250k dong when you arrive.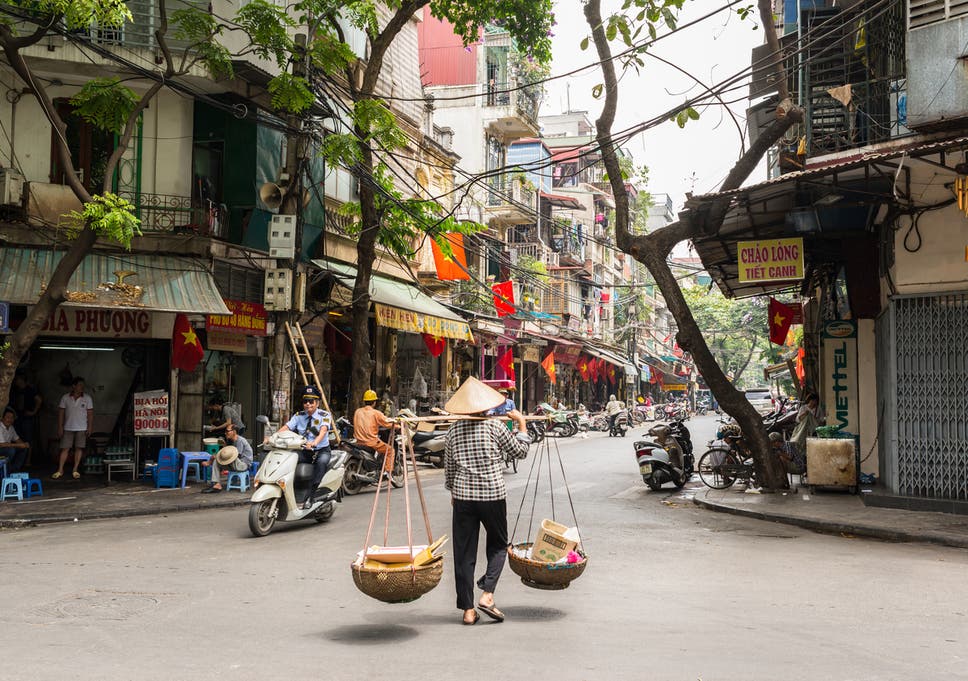 To eat
Lifted Coffee and Brunch; Melbourne coffee place with wholesome healthy plates. Think all day brunch, keto pancakes with coconut yoghurt or nourish bowls with kimchi.
3 chi Em; great Vietnamese brunch starting from 11am. They have tons of fresh local dishes and you can pile your plate up with rice, veggies and tofu etc.
Satori Slack and Savor; escape from the hustle and bustle, it's on the second floor of an old building with views over the busy road. Expect eggs benedict, smoothies and brunch.
Bun Cha Hang Manh; local street food that's great. Spring rolls, grilled pork with rice noodles, pho and banh mi.
Naturaw; a little bit out of the old qusrter but if you want some healthy goodness this is the place.
Hanoi Social Club; coffee, croissants and brunch. You'll love it.
To Do
Walk the streets and enjoy the craziness. Barbers cutting peoples beards on the street, who just boiling away in large pots, locals smoking out of huge pipes, and plenty of dogs and men just chilling on the street eating and drinking. Go exploring but just remember to look left and right 3 times before crossing the street.
The Lake; go for a stroll around the lake. It is a nice change from the busy streets.
Train Street; this super tiny narrow street with people's balconies and shops opening up onto a train track that is used up to 15 times a day. They know the timetable so go and grab a drink and sit and wait for the train. It comes crazy close to the buildings you really have to see it to believe it.
Night Market; Fri – Sun from 7pm to midnight you'll a whole street dedicated to local food and markets. It comes alive.
To Stay
Hanoi Old Quarter Homestay; this place is run by Luen and his family. He lives in the building too and is really helpful. Great location, nice and cheap but exactly what you need for a quick stop over in Hanoi. They will also invite you for dinner with them and you can have a proper local experience. They can also organise drivers and tours for you at the desk. Cost $12 US a night.
Light Hotel; a little more at $50 US a night but it has everything. The most comfortable beds ever, great buffet, roof top pool and deck, 24 hr desk, gym and Netflix on the tv. You don't need to pay $300 at the Sofitel when this place really has it all.
NINH BINH AND TAM COC (2 nights)
Get a transfer, bus or grab taxi from Hanoi about 2 hours to Ninh Binh. We paid 600k dong for 2 of us in a 9 person limousine van and it took us door to door in 1.5 hours. This place is absolute heaven minus the tourists. They call it the 'Ha Long bay of the land' and we chose to go here over Ha Long and are so happy we did. The locals said that it was changing and more and more hotels are being built so head there and enjoy it before the nature as it is, is ruined.
To Stay
Ninh Binh Retreat; we loved this place and would highly recommend it. It was cheap but much nicer looking and more secluded than the others nearby. They had bikes for free and are part of a chain of Eco Lodges. The main owner speaks great English. It's located out of the Ninh Binh town in Trang An. But it's perfect for exploring the area. You can bike ride or hire a scooter for 100k per day from him too.
To Do
Trang An Grotto boat ride; this one is the same as the more famous Tam Coc grotto but is less touristy and according to the locals much nicer. You can see more caves and temples and local villages along the way. The boat tour takes 4 hours and costs 200k dong per person. You don't need to tip the ladies at Trang An but at Tam Coc it is advised to.
Walk up to Hang Mua Caves / Dragon Mountain for epic views over the river, rice fields and temple.
Bich Dong Pagoda; we didn't go in as there was a line but you can see the temple / entrance from the carpark.
To Eat
Brick Coffee; on the road between Ninh Binh and Tam Coc we ordered a coconut coffee without condensed milk and it was so so good.  We asked for the recipe so we can make it at home. They only did drinks but definitely pop in for coconut coffee… or their famous egg coffee if you're brave.
Chookys; rice paper rolls, salad, burgers and pizza plus green juice or smoothies if you want.
Ninh Binh retreat; we ate dinner at the restaurant at our homestay and it was super cheap and great. Loved the green vegetables, fried rice and the fried tofu with tomato sauce.
MAI CHAU (2 nights)
3 hours from Ninh Binh and 4 hours from Hanoi this little town really is a secluded slice of paradise. It is SO quiet and the best escape from Hanoi. The people are simply gorgeous and if you love mountain views, cycling around rice fields and hikes this is your place. We did nothing active at all and just lazed by our pool and relaxed.
To Stay
Mai Chau Eco Lodge; we couldn't get availability here but if you can and want a real retreat for a night or two check it out. Infinite pool over the rice fields and gorgeous villa rooms it looked really special.
Mai Chau Lodge; the second best thing to above we really enjoyed our stay here. We didn't have a view from the room or pool but it is close to the best restaurant in Mai Chau and we loved the location. Plus it is half the price of the Eco Lodge. We paid $80 US for 2 nights.
 To Eat
Quan 3 chi em; which translates to 3 daughters is the BEST restaurant I have almost ever been to. A tiny shack on the side of the road with a few tables and fans you might interrupt the family eating their own lunch when you arrive. The daughter Chang speaks amazing English but the families smiles and laughs are infectious. It's just a happy place. And then food… best we had in the whole of Vietnam. Everything is made from scratch right in front of you and it will come out as it's made. They know their shit when it comes to delicious food everything we ate was unforgettable. The mango smoothie and avocado smoothies are HEAVEN. The banana leaf salad and green mango salad are a must. The make your own rice paper rolls came out as a tray of fresh goodness and stack of rice paper to get rolling yourself. Great experience. The fried spring rolls are the freshest you'll ever have and the fried rice, veggies and noodles and morning glory greens are also musts. We went 4 times.
 To Do
Relax. Eat. Explore.
They do cave tours and hikes and also provide bikes if you want to go for an explore. Otherwise feet up and enjoy the peace.
Get a 17-person bus back to Hanoi which takes around 5 hours for 15 US each. They will drop you at your hotel. We organised this though Luan at Hanoi Old Quarter homestay. hanoioldquarterhomestay@gmail.com
LEARN SOME WORDS
Hello – Xin Choo
How are you – Ban Co Khoe Khong
Yes – Vang / No – Khong
Thank you – Xin Cam on
Goodbye – Tam biet
OTHER TIPS
VISAS; we only researched this the night before so had to pay a lot more but you need to organise you visa BEFORE arrival. You can do this online just google it. If you are from the UK you can get a free visa for 15 days. If you are Australian you need to fill out a form, provide a passport photo and pay 25 US cash. Also they require a whole free page in your passport and the visa in unnecessarily big.
WATER; You can't drink the water. You can buy large bottles from 15k dong. Some hotels have filter water options and can fill your water bottles up for you. There is a huge single use plastic issue in Vietnam and you see plastic EVERYWHERE.
MONEY; You will find ATMs everywhere. Most of the restaurants take card payment, even our guest houses take card payments but check on the booking incase they are cash only. The local street food places will only be cash and don't be surprised if the 'English' menu is twice the price of the local menu.
MOTORBIKE; If you are planning on getting a scooter or motorbike you'll need a licence otherwise the insurance company won't cover you and you can read some crazy horror stories online about traveller's experiences. Get your licence otherwise be prepared to sit behind a driver.
Ok that's enough! GO TO VIETNAM! Eat all the Mango salad and enjoy some of the most beautiful landscapes. K